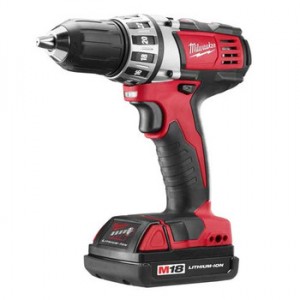 A while back I purchased a Milwaukee ½ inch 18 volt lithium compact cordless drill driver.  The actual purchase was back during black Friday days following Thanksgiving.  I know, I know.  It's been a long time and why didn't I report on it sooner?
My excuse is that it's been a long, cold winter here in Northern Nevada and I didn't feel very much like working in my unheated shop.
So, what was it that I actually bought?  I bought a Milwaukee 18 volt lithium compact cordless drill, model 2601-22.  The actual model number may vary slightly because I actually bought a combination package that included an impact driver.  For this article I will keep my discussion only on the drill.  I plan to cover the impact driver at a later time.
My opinion is that most of the major manufacturers offer very similar products and that we could find great value in easily a half a dozen brands.  This drill was a factory refurbished model.  It had very clearly been used, but no obvious problems were noted.  I had previously described refurbished tools as a no cost 30 day rental program.
Features (from the Milwaukee web site)
1/2 in. Ratcheting Chuck with plastic sleeve
Heavy-Duty 2-Speed Metal Gear Box: 0-350/0-1,400 rpm
Compact Length (7-3/4 in.) fits in tight areas
Compact Motor delivers 400 in.-lbs. of maximum torque
Built-in LED light illuminates work surfaces
Lightweight 4.0 lbs.
An 18volt lithium battery pack and battery charger was included with the drill.  In my case a carrying case and an impact driver was also included.
Now, I must admit that I have not yet given the drill a good workout.  I am still on the first battery charge.  That in itself is amazing.  I topped off the batteries when I first received the drill and the time is now approaching the six months mark and the battery still has loads of available power.  My old NiCd batteries would have long been completely discharged within that same time frame and level of neglect.
The drill is much more compact than my previous ⅜ inch NiCd model.  It is smaller, lighter and easier to carry and will fit into tighter spaces, even though it has a ½ inch chuck.
I am still in awe about how much power it has.  I drilled a test hole in wood using a ½ inch bit and it went through with ease.  I also used it to cut a 2 ¼ inch hole using a hole saw.  Milwaukee states that it can drill up to 1 inch in wood, but I think it could likely handle a larger spade bit if needed.  It could be a good idea to use two hands when operating the drill.
The drill's clutch has 23 different settings to facilitate driving many different sized screws without over tightening them.  It also has one additional position that locks the clutch for drilling.
A construction worker may want the extra duration that comes with larger batteries.  But this drill is perfect for anyone who wants loads of torque and light weight.  It really has an abundance of power and is easy to handle.  I highly recommend this drill.
You may also be interested in . . .